By Christine Ristuccia,
M.S. CCC-SLP
Administration of a speech screening does not take long, yet it is a critical first step in being able to successfully overcome speech disorders with your students. I initially qualify my students for speech services and then re-administer the single word screening approximately every five sessions to assess their progress and current performance levels.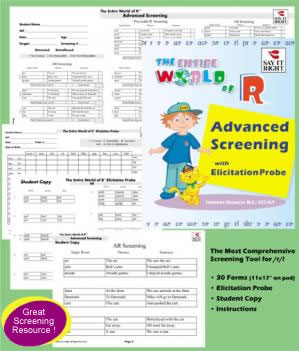 Here is how you can administer speech screenings in 10 minutes or less:
Place screening form in front of You (the SLP). Place the stimulus word booklet in front of your student so that he/she can read the words.
Show students the written words and have them say the words on the cards.
Mark "+" for correct production, "-" for incorrect production, "1" for stimulable which means not 100% correct, but a close approximation.
Add up the number of "+" marks and add to the percentage correct at the bottom of the page.
Transfer numbers/scores to the Advanced Screening results page.
Write down all of the correctly produced words for placement and homework practice.
Visit our online store at SayItRight.org, where you can find helpful screening tools and kits for many different speech and articulation disorders, including frontal and lateral lisps, the /r/ phoneme, as well as affricate and fricative sounds.